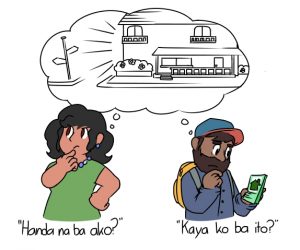 Are you one of those scammed by unscrupulous agents and scammers?? Lost money in reservation fees to a real estate project?
Moderating many social media groups had me seen hundreds of posts every day.  Sad that 98% of these posts are from illegal agents, fake brokers or 'colorums'.  I have also seen posts by victims or posts that showed the faces of some scammers they want the public to be warned.  Then I see stories of victims how they lost their hard-earned money through these scammers. For buyers of real estate properties out there especially pre-selling projects or those that they advertise rent-to-own, here are some tips to avoid being scammed and protect yourselves from unscrupulous agents and brokers.
They use Aliases, not their real names.
It is easy to register in any social media and assume any names. We can't help that, its social media but once you use it for business, advertise or sell anything, it is important to be credible. So, inquire only from those using real names. Sometimes, it's their names but spelled backwards. Why hide their identity if you mean business? Are they for real business? On classified ads or in their websites, they only put telephone numbers.
They use their names but do not indicate their PRC license registration numbers and HLURB numbers.
RA 9646 or RESA law prohibits real estate practice without proper license and violation of its provisions merits imprisonment of not less than 4 years and P200T fines for illegals. For the legitimate practitioners who violated its half of the penalties of the illegals.  Sec 38 of RA 9646 requires display of licenses in all advertisements.
They use real names and indicate PRC and HLURB numbers but not theirs.
We have discovered unscrupulous agents in order that we allow their posts in our groups, would add a PRC number or HLURB numbers. We found out its not theirs. It is easy for us to spot them but for the general public who are not familiar how, it will be difficult. Ask for proper IDs and verify first their names if they are legitimate. Corporate IDs are not licenses. They should also have PRC and HLURB IDs.
If you are dealing with agents, you can verify their names at :
For Agents and Brokers :
For Brokers, here is another link you can verify. They don't have the Salespersons  though and you should know their complete names
http://online.prc.gov.ph/Verification
Alternate sites to verify Licensed RE Brokers and their Salespersons:
http://realestatedirectory.ph/
In both sites, you can check Brokers by their family names, their location, and associations.  Just type family name then a comma and click search, or use the dropdowns if you want to find brokers by location.
 4. They want you to pay reservation the day you inquired at showrooms, their posts or at the first day you met.
Many agents are recruited by developers and after three days  product knowledge training, they are deployed in malls and distribute flyers. They are given allowances for three months and if they don't make a sale during the period, they lose their allowance. Hence the pressure selling. So many buyers who bought from these agents have orphaned buyers because the agents they bought it from are no longer with the developer so they are left to themselves to follow up their papers.  I have heard many buyers complain about their agent no longer with the developer when they call to ask help. Real estate investment requires careful planning and once you reserved, you cannot get it back.
They advertise rent-to-own when the project they are selling is still under construction
You'll see these posts by many agents in social media. But when you check the name of the projects, the delivery dates are a few years from now, so how can you rent a unit when it's not yet built? This they do to catch attention but it is also misinformation and is not allowed by HLURB (Board Res 922 Series of 2014).  Colorums are easy to say anything just to get your money. Countercheck their claims by verifying with HLURB these projects before making reservations or any payments.
They want you to issue blank checks or pay to cash for reservation.
This is where most buyers have lost money. Just recently, two buyers of the same developer came forward to complain about an agent who accepted cash reservation but were not recorded with the developer. The agent made fake receipts and acknowledgment receipts. But when buyers checked their units, their names are not recorded with the developer and they have no reserved unit. One has paid over P48,000 and another P99,000 plus blank checks.  This even happened inside developer's projects so the innocent unsuspecting buyers thought they were legit.  When you should pay, make sure you use checks payable to Developer and make it crossed check. Never issue check in the name of any other person unless it's the developer. Read the reservation agreement carefully. Reservation forms have letterheads and it says there to whom you should pay your reservation fees among other payments. Get first the computation of the total price you will pay until you can own the unit.
Some buyers who have money would and inquire to showrooms with loads of cash and so unscrupulous agents can smell your cash. No matter how much you are eager to buy a unit in a project you want, always be cautious. Real estate is not like vegetables that get spoiled if you didn't buy the day you come. Go shop and compare. Talk to as many agents as you can and verify if they are legitimate.
Real estate investment or buying your first home is not a spur of the moment decision. It takes careful consideration because of the amount involved. Ask yourself first if you are ready. For OFWs, while it is fine to ask your relatives to find investment for you, it is still your hard -earned money so do a careful study before making that important decision. I have seen so many buyers lose money after paying for down payment only to find out they cannot get a bank loan nor they cannot afford to pay the in-house term because the agents were in a hurry to get their reservation money and their down payment.
If you are one of these scam, feel free to contact us and tell your story or if you are planning to invest and need advice how to properly do it and with the legitimate brokers and professionals, you may contact this author. We'll be glad to be of help.
By Genevieve F. Bonquin REC REA REB
MBA (Academics)-MLQU  SPACE
You may visit my website: http://www.greenhuts.net/