The difference between Real Estate Broker (REB) and Agent or Real Estate Salesperson (RES)
Time and again, in many social media, in classified ads, business cards, you will encounter real estate agents indicating themselves as both Real estate agent/Real Estate Broker. That should not be the case and if ever you find one, that person with such profile could be illegally practicing and did not know about RA 9646. Or if he/she claims to be a freelance agent as all real estate agents should be working under a Real Estate Broker.
By definition-   a) Real estate broker – a duly registered and licensed natural person who, for a professional fee, commission or other valuable consideration, acts as an agent of a party in a real estate transaction to offer, advertise, solicit, list, promote, mediate, negotiate or effect the meeting of the minds on the sale, purchase, exchange, mortgage, lease or joint venture, or other similar transactions on real estate or any interest therein. (Sec 3 g (4))   b) Real estate salesperson – a duly accredited natural person who performs service for, and in behalf of. a real estate broker who is registered and licensed by the Professional Regulatory Board of Real Estate Service for or in expectation of a share in the commission, professional fee, compensation or other valuable consideration.
2. By qualification – Section 14. Qualification of Applicants for Examinations.– In order to be admitted to the licensure examination for real estate service, a candidate shall, at the time of filing his/her application, establish to the satisfaction of the Board that he/she possesses the following qualifications:
(a) A citizen of the Philippines –
(b) A holder of a relevant bachelor's degree from a state university or college, or other educational institution duly recognized by the CHED: Provided, That as soon as a course leading to a Bachelor's degree in Real Estate Service is implemented by the CHED, the Board shall make this course a requirement for taking the "licensure examination; and
For real estate salespersons, no examination shall be given, but they shall be accredited by the Board: Provided, That they have completed at least two (2) years of college and have undergone training and seminars in real estate brokerage, as may be required by the Board. Real estate salespersons shall be under the direct supervision and accountability of a real estate broker.
Real Estate Broker must have passed the Board exam for Real Estate Brokers (DTI until 2009 when RA 9646 became a law and was granted registration without examination) and by (PRC starting 2011). Until 2016, during the transition, as the law provided for the creation of a college course called Bachelor of Science in Real Estate Management (BSREM), PRC allowed graduates of any 4-year college course to take the Real Estate Brokers Examination and the Real Estate Appraisers Examination. After 2016, there was one last examination held for re-takers of the Board exam (Dec 2017) for non-graduates of BSREM. Since then, only graduates of BS REM course can take the Board exam to become a Real Estate Broker or Real Estate Appraisers.  For those who want to be a Licensed Real Estate Broker, you need to be a graduate of BSREM first and pass the Board exam.
For the Real Estate Salespersons, they should be registered or accredited under a Real Estate Broker and approval of PRC, and their accreditation is only good for one year unless renewed for another year. Real Estate Salespersons should not work by themselves alone or say they are freelancers. There is no freelance agent in RA 9646. You sell what your REB are selling or are authorized to sell. Your Broker should be responsible for you.
Related article: https://resaadvocates.com/can-duly-accredited-salesperson-act-independently-without-supervision-licensed-broker/
What should Buyer, Property owners do when they are approached by an agent offering real estate properties?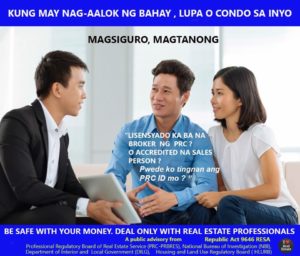 If an agent comes to you to offer real estate properties, always ask the name of his/her supervising Broker and check with the Broker if the agent is in fact working under his accreditation. He/She should have at least an ID from PRC or from HLURB. 
Ask the name of his/her supervising broker to verify that the SP is under his/her supervision. You may also check who is accredited SP in our directory https://philrealestatedirectory.com/
Salespersons are not allowed to be a signatory for real estate transaction unless supervised by his/her broker. Therefore, the authority to sell you will issue in the name of the RES is not binding unless it is countersigned by his/her broker. (Sec 31). Always make sure the transaction is well-supervised by the accrediting Broker.
Salespersons are also not allowed to receive commission directly but through the Broker. (Please read Sec 31 RA 9646)
It is best to contact Licensed Real Estate Brokers to make sure your transaction goes smoothly. For a list of duly licensed REBs, you may visit our directory: https://realestatedirectory.org.ph/brokers/
In summary, agents or salespersons are working under a licensed Real Estate Broker and by themselves, they are not allowed to do the whole transaction. We advise the public to read the whole RA 9646. It is only about three pages. There should be no competition between Real Estate Brokers and Salespersons, as the latter are supposed to be working under their accrediting Brokers and there must be a good partnership and working relationship between them.
This is part of our continuing efforts for our RESA advocacy to educate the public about RA 9646.
References:
https://lawphil.net/statutes/repacts/ra2009/ra_9646_2009.html