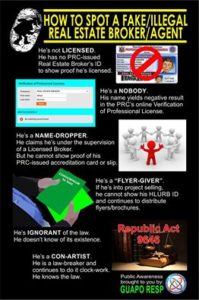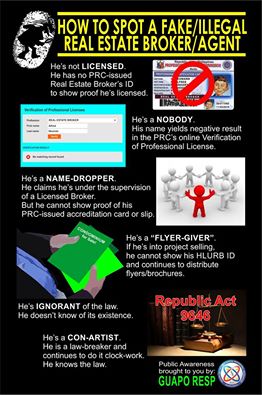 RA 9646 or better known as RESA (Real Estate Service Act) became a law on July 15, 2009.  This law prohibits real estate service practice without proper license. Violation of its provisions is punishable by fines and imprisonment of not less than TWO (2) years and ONE HUNDRED THOUSANDS PESOS (P100,000.00) in fines or double for non-licensed practitioners (Sec. 39). This law also paved the transfer of licensing of Real Estate Service Practitioners under the supervision of the Professional Regulation Commission where Brokers, Appraisers, Consultants will have to pass respective Board exams to be able to practice. As such, it also created a new four-year college degree, Bachelor of Science in Real Estate Management. Only those who graduated from Bachelor of Science in Real Estate Management can take the Board exams for Real Estate Service.
           As of May 2016, there are already  about 31,000 duly Licensed Real Estate Brokers,  9,000 + duly Licensed Real Estate Appraisers and about 180 Real Estate Consultants registered with PRC. Their names can be verified at the PRC website through this   link –  . You need to know their full name then choose the profession on the drop down menu. Their names will appear if you typed the correct name like this :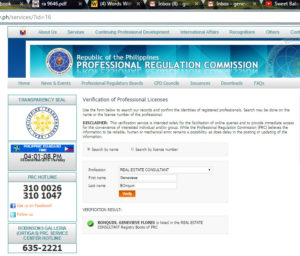 However, in many cases that you do not have the full name as most business card or in everyday dealings, we only get their nicknames and family names, and you need other information like their PRC number, their location of business and if a member of a local real estate board or association, you have two sites to check them out. One is this site :  Philippine Real Estate Directory  .
To verify a  Broker, Appraiser or Consultant –
          To find a Broker, Appraiser or Consultants, just type family name on the Search box, followed by comma and then click Search. All listed with similar family names will appear. You may check from the names that appeared the practitioner you are looking for. Other info you will see about the Real Estate Service Professional (RESP) are the date of examination or the Resolution number for those who availed of the grandfather's clause of  RA 9646. Those who availed the grandfather's clause  no longer have to take the Board Exam as they were licensed previously under DTI.  You will also find their PRC license numbers and whether they are Brokers, Appraisers, Consultants or carrying all three licenses for Real Estate Service, their affiliation and location. Not all in the list have these info are voluntary.
        If you are looking for  Real Estate Practitioner in a Locality, City or Province – you may use Location and use the dropdown to search for cities, towns or province you want to locate a Real Estate Service Professional.
        You may also search these RESPs if they are members of a local real estate organization or registered with HLURB. You may also check the agents who are registered under them. If you need help in locating a particular RESP in the directory, please feel free to email me at gigi@greenhuts.net.  You may also call or text at these numbers – (63) 0915 632-9960 / 0932-8623203 / 09984693926.   (Part 1 of How to know Legitimate RESPs Series)
 Visit also her websites : www.greenhuts.net    and MLS website