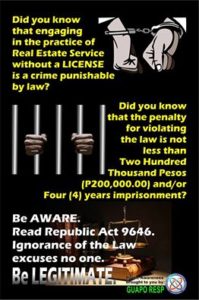 For the general public who are not aware of  RA 9646, we are highlighting here the heart of the law so that they will know that real estate practice without proper license is a criminal act and punishable by fines and imprisonment.
The following are important points of the law and must be known to the public.
Section 29. Prohibition Against the Unauthorized Practice of Real Estate Service. – No person shall practice or offer to practice real estate service in the Philippines or offer himself/herself as real estate service practitioner, or use the title, word, letter, figure or any sign tending to convey the impression that one is a real estate service practitioner, or advertise or indicate in any manner whatsoever that one is qualified to practice the profession, or be appointed as real property appraiser or assessor in any national government entity or local government unit, unless he/she has satisfactorily passed the licensure examination given by the Board, except as otherwise provided in this Act, a holder of a valid certificate of registration, and professional identification card or a valid special/temporary permit duly issued to him/her by the Board and the Commission, and in the case of real estate brokers and private appraisers, they have paid the required bond as hereto provided.
For those who are connected with developers and thinks that having a company ID is legal practice, it is not.
Section 31. Supervision of Real Estate Salespersons. – For real estate salespersons, no examination shall be given, but they shall be accredited by the Board: Provided, That they have completed at least two (2) years of college and have undergone training and seminars in real estate brokerage, as may be required by the Board. Real estate salespersons shall be under the direct supervision and accountability of a real estate broker. As such, they cannot by themselves be signatories to a written agreement involving a real estate transaction unless the real estate broker who has direct supervision and accountability over them is also a signatory thereto. No real estate salesperson, either directly or indirectly, can negotiate, mediate or transact any real estate transaction for and in behalf of a real estate broker without first securing an authorized accreditation as real estate salesperson for the real estate broker, as prescribed by the Board. A real estate broker shall be guilty of violating this Act for employing or utilizing the services of a real estate salesperson when he/she has not secured the required accreditation from the Board prior to such employment.

No salesperson shall be entitled to receive or demand a fee, commission or compensation of any kind from any person, other than the duly licensed real estate broker who has direct control and supervision over him, for any service rendered or work done by such salesperson in any real estate transaction.

No violation of this provision shall be a cause for revocation or suspension of the certificate of registration of the real estate broker unless there was actual knowledge of such violation or the broker retains the benefits, profits or proceeds of a transaction wrongfully negotiated by the salesperson.

Section 39. Penal Provisions, – Any violation of this Act, including violations of implementing rules and regulations, shall be meted the penalty of a fine of not less than One hundred thousand pesos (P100,000.00) or imprisonment of not less than two (2) years, or both such fine and imprisonment upon the discretion of the court. In case the violation is committed by an unlicensed real estate service practitioner, the penalty shall be double the aforesaid fine and imprisonment.

In case the violation is committed, by a partnership, corporation, association or any other juridical person, the partner, president, director or manager who has committed or consented to or knowingly tolerated such violation shall be held directly liable and responsible for the acts as principal or as a co-principal with the other participants, if any. 
For the public, Buyer or Seller, or other interested parties, in case you want to find out if the real estate person you are dealing with is licensed or not, find their names in this link https://realestatedirectory.org.ph/ . Click Begin Search and type the family name of the person and click Start Search. All those listed with similar family names will appear. If they are not there, they are most probably not licensed. Require them to show you a PRC ID and HLURB ID.
Author: Genevieve F. Bonquin  REB REA REC