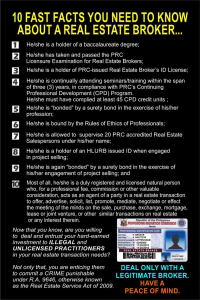 Every real estate transaction would entail many legal implications, not to mention factors like the structures on the property, financing, rights among other consideration such that, each transaction should be supervised by a competent practitioner. The government recognizes the role of real estate service practitioners in stimulating economic activity through the real estate marketing and developments in major cities and countrysides. These real estate activities enhance the income of the government by way of tax revenues, its multiplier effect that brings more jobs and income that contribute to the economy.
           This important role of real estate service practitioners in the social and economic development of the country need to be regulated and developed to be technically competent to serve the increasing demands of the property sector.
           To make sure you are dealing with a real estate professional, here are what you need to know about a Real Estate Broker:
He/She is a holder of a Bachelor of Science in Real Estate Management degree.
He/She has taken and passed the PRC Licensure Examination for Real Estate Broker or previously registered with DTI and granted registration without examination via the grandfather's clause of RA 9646.
A holder of a PRC-issued Real Estate BRokers ID (with corresponding License number)
He/She is continually attending seminars/training within the span of three (3) years in compliance with PRC's Continuing Professional Development (CPD) Program.
He/She is "bonded" by a surety bond in the exercise of his/her profession. (The only profession under PRC that requires bond)
He/She is bound by the Code of Ethics of Professionals.
He/She is allowed to supervise only 20 accredited Salespersons under his/her name.
He is a holder of an HLURB issued ID when dealing with developer's projects.
He is also "bonded" by a surety bond in favor of HLURB in the exercise of his/her engagement in project selling.
By definition of law (RA 9646), a Real Estate Broker is a duly registered and licensed natural person (not a realty or corporation), who for a professional fee, commission or other valuable consideration, acts as an agent of a party in real estate transaction to offer, advertise, solicit, list, promote, mediate, negotiate or effect the meeting of the minds on the sale. purchase, exchange, mortgage, lease, or joint venture, or other similar transactions on real estate or any interest therein.
Protect yourself and your hard-earned money! Deal only with legitimate Real Estate Service Professionals.
Illegal real estate practice is a crime punishable by fines and imprisonment!
You may find legitimate Real Estate Service Professionals in these link: http://realestatedirectory.org.ph/ or http://realestatedirectory.net.ph/
Author:
Genevieve "Gigi " F. Bonquin REC REA REB
MBA(Academics)
PRC Real Estate Broker Lic. No: 2309

PRC Real Estate Appraiser Lic No. 5754 
PRC Real Estate Consultant Lic. No. 92


PRC-PRBRES Accredited Lecturer No. 274
Mobile PLDT: (632) 994-3163 (Metro Manila)
Globe/Viber- 0915-632-9960