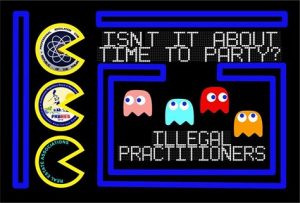 For many years, even at the imposition of RA 9646 or RESA law in 2009,  colorums or illegal practitioner still abound and do not seem to mind the law with its hefty fines and imprisonment of a minimum of four years per violation for those practicing without proper licenses. Why is this so?  Again, we have many laws waiting to be fully implemented.  While our regulatory agencies  (PRC-PRBRES  and HLURB) are sleeping (?) on their job or only concerned about the already legitimate pay their licenses every  year, the illegal practitioners  proliferate and multiply and laughing their way to the banks as developers do not mind whether they are licensed or not for as long as they bring in sale!
Dear fellow Brokers,  how can we help eradicate illegals?    After all, we are losing businesses to colorums so why not help in eradicating them. Unless you belong to the group who recruits these illegals, making them get sales without bothering to register these agents, then you are also violating the law and we should also run after you? Do not just complain that there are many of them out there.  WE KNOW THAT! But what are you doing to help?
First, let us the legitimate Real Estate Brokers,  be the change that we want to see!   Start by not dealing with these illegals. Do not inquire for their listings or accept their inquiries!  When you have to recruit agents, recruit only those who are qualified under RA 9646.  Send them to attend CPE for salespersons and register them to PRC and HLURB before sending them out to sell.
Second, in all your advertisements, always display your PRC REB license numbers, your PTR, your HLURB numbers. That is separating ourselves from illegals. So that the public can distinguish who is legitimate because we have those displayed in our tarpaulins, business cards, websites!  Use our real names in social media, not the aliases like the way colorums do business!
Third, do not rent out your licenses. We have received information that there are developers renting licenses of Brokers.  Brokers are supposed to manage their own agents that is why we were only allowed to accredit maximum of twenty (20) salespersons. Why are they registered under your name but working with a different sales managers in a developer's project you are not even accredited? For the measly sum of P500 per month?? Your PRC license is only worth P500 a month??  You spent 120 hours sitting in a seminar, countless sleepless night to review for board exam only to rent out your licenses? Some realty companies are also operating out of rented Real Estate Broker's licenses.
Fourth,  if you see colorums' ads, those distributing fliers in malls that do not have proper registration, get their fliers as evidence. Screenshots their ads and email to HLURB and PRC!  Make your voice count! After all, we do pay our dues to them. They have to protect us! They should do their mandate to us and protect us from these illegals!
Fifth,  why not help file a case against these illegals if you encounter a client they victimized? Many buyers who are victims of illegal practitioners think we are all scammers because of them.  Their victims maybe not aware of RA 9646 and it is our duty to inform them about the law that enables us to practice real estate legally.
If you want to report these illegals, here are the links where you can find contact details of agencies that regulate our industry:
For Salespersons who are selling projects by developers, check them with HLURB:
HOUSING AND LAND USE REGULATORY BOARD 
All Real Estate Service Professionals, namely: Brokers, Appraisers, Consultants (not Agents), please click the link below: (You need to know their full names)
Or join our advocacy!  Check our fan page: 
https://web.facebook.com/resaadvocates/
Check your name and others who are licensed in this link
An invitation to all RESP for free web pages for you! Visit this site!
LET US BE THE CHANGE THAT WE WANT! IF WE WANT TO CLEAN OUR RANKS, IT STARTS WITH OURSELVES!  LET US ALL HELP IN POLICING OUR RANKS!