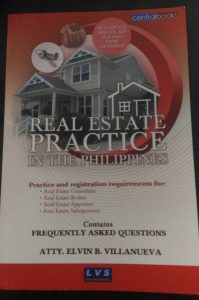 While reviewing literature as part of my MBA thesis, I went through my books and saw I have two copies of this book on RESA (RA 9646) by Atty. Elvin Villanueva. (This book is available in all National Book Stores)  Apart from the detailed explanation of the law and organizing it to for convenience of the readers, I find the FAQ (Frequently Asked Questions) to be very helpful to new practitioners, salespersons, and even the interested public or buyers who want to be protected by the law.
This particular question which is No. 32 on page 107 caught my attention because I observed the rampant 'renting' of licenses by Brokers who are not active in real estate but has many agents deployed in different developers. Then there are many Sales Managers employed by developers who only have the accreditation as a Salesperson. They are violating this section of the law which is Section 31 and 32 of RA 9646.  This section I believe, because of the rampant illegal agents, and even those accredited ones are most guilty of.  These violations should be given utmost attention by the regulators of RESA which is the PRC/PRBRES as well as HLURB.
To quote the entire question FAQ No. 32 – Can a duly accredited salesperson act independently on his own without the supervision of a licensed Broker?
No. Real estate salesperson shall be under the direct supervision and accountability of a real estate broker. As such, they cannot by themselves be signatories to a written agreement involving a real estate transaction unless the real estate broker who has direct supervision and accountability over them is also signatory thereto.
No real estate salesperson, either directly or indirectly, can negotiate, mediate or transact any real estate transaction for and in behalf of a real estate broker without first securing an authorized accreditation for the real estate broker as prescribed by the Board. 
No salesperson shall be entitled to receive or demand a fee, commission or compensation of any kind from any person, other than the duly licensed real estate broker who has direct control and supervision over him, for any service rendered or work done by such salesperson in any real estate transaction.
Every day, we see recruitment ads looking for agents. If you are one interested to become a real estate salesperson, make sure you will be working under a legitimate or licensed Real Estate Broker and secure first proper accreditation before you begin selling real estate.
I think I should include the question no. 33 which is also a related topic.
No. 33. What is the liability of a real estate broker who employs unlicensed real estate salespersons?
A real estate broker shall be guilty of violating RA 9646 or the IRR for employing or utilizing the services of a real estate salesperson when he /she has not secured the required accreditation from the Board to such employment.
Lastly, to remind everyone the penalties for violating RA 9646 is on Sec 39, to wit:
Penal Provisions – Any violation of this Act, including violations of implementing rules and regulations, shall be meted the penalty of a fine not less than One Hundred Thousand Pesos (P100,000.00) or imprisonment of not less than two (2) years, or both such fine and imprisonment upon the discretion of the court. In case the violation is committed by an unlicensed real estate service practitioner, the penalty shall be doubled the aforesaid fine and imprisonment. 
In case, the violation is committed, by a partnership, corporation, association or any other juridical person, the partner, president, director or manager who has committed or consented to or knowingly tolerated such violation shall be held directly liable and responsible for the acts as principal or as a co-principal with the other participants, if any.
For the public who want to report on violators, you may email proofs of violation to ra9646anticolorum@gmail.com. We are compiling these evidence for filing cases. Or if you want assistance on how to file cases against the violators, send your concern to the email address indicated.
LET US SUPPORT THE PROPER IMPLEMENTATION OF RESA (RA 9646) !!
To verify if you are dealing with legitimate Real Estate Service Professionals, you may check this link:
http://realestatedirectory.org.ph/
Author: Genevieve F. Bonquin
REB 2309, REA 5754, REC 92
Accredited Lecturer No. 274
Websites: http://www.greenhuts.net/  http://realestatedirectory.net.ph/